SWFL Produce is different from the traditional, one farm CSA. We are a co–op that works closely with different farms, which means variety for our members. Owner Derek & Elizabeth are always looking for different, and unique produce to keep this program exciting. We provide numerous pickup locations and home delivery. Be sure to check out our Recipe Packs which are affordable, convenient and we have a varied selection to satisfy everyone. We thank you for visiting our site.
Located in Punta Gorda, Swfl Produce is a Local family operated Farm and Co Op. Owner Derek & Elizabeth Coquillard believes in a culture that is committed to the environment and community. This dynamic team company runs the Largest CSA is South West Florida with the help of a hardworking,& dedicated team.
Our Family team truly believes that each day, if we commit to do our best, practice honestly, support our community, and work together with respect, we will create a business that has a soul. When you choose us, know that you will be receiving a quality product that was produced with the Values of Fam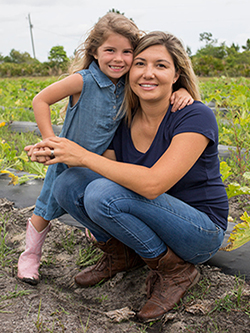 Elizabeth Coquillard a long time native of Swfl, and graduate of Florida Gulf Coast University handles a little bit of everything from processing weekly orders, to picking fresh fruits and veggies on the farm.
Elizabeth is a mother of three, and believes all kids deserve a healthy start! Her passion to help children overcome child obesity by encouraging them to eat healthy each and every day. Fitness, and healthy eating is very important to Elizabeth.
She enjoys sharing her knowledge of sourcing healthy, nutritional food to the community. Her motto is Be Healthy, and Be Happy!
Derek Coquillard is a third generation Farmer from South Bend Indiana. Derek is in charge of hand selecting all the fresh produce the Co Op Receives, and transporting it back to our warehouse! His Days usually start at 12:30 am! You can say the early bird, really gets the worm! Which is why we have the best produce in town! Derek Also handles our group facebook page.
His passions include Fishing, Farming, and spending time with his children.
Other crops that we grow at our farm are zucchini, squash, Florida sweet onions, red onions, pineapples, mangoes, papaya, pineapples, Swiss chard, tomatoes, peppers, bananas, sugar apples, soursop, lychees, jack fruit, yellow dragon fruit, miracle berries, and new additions every season!
We Partner with Local Farms and Bulk Wholesale Outlets
Depending on which season it is, we partner with the most local, organic, pesticide free, sustainable farmers in South Florida. We then purchase in bulk, items that will never grow in Florida such as Grapes, Apples and so on. By purchasing in bulk we are able to pass the discount savings on to our members.